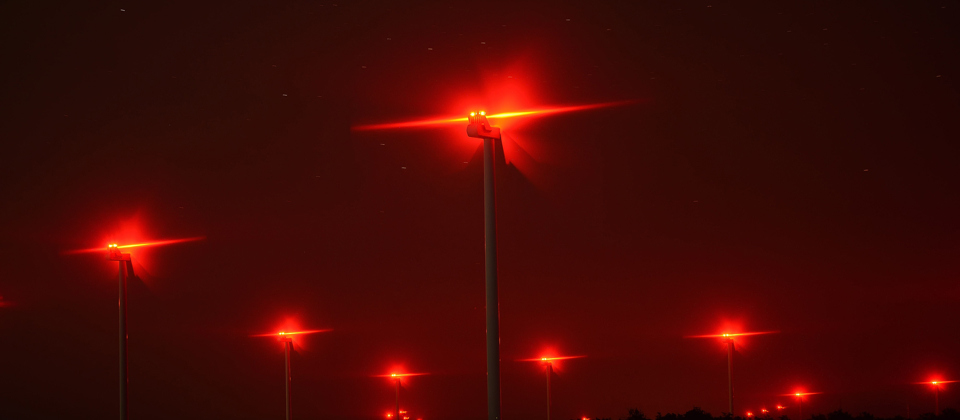 Turn off the lights
Reduce light pollution, and increase public acceptance of wind farms.
Obstruction Light Control
Turn obstruction lights on – but only when needed. The increasing size of wind turbines is creating safety and societal challenges for the wind industry, the authorities, and the surrounding municipalities when it comes to complying with air traffic regulations.

As wind turbines grow taller and enter the lower airspace, high intensity obstruction lights are needed. The high-intensity lights required for higher wind turbines can appear very intrusive to wind farm neighbors and to an otherwise pristine night sky. The high intensity lights cause a growing number of delays and cancelations of wind farms due to complaints from neighbors and municipalities near planned wind farms. These problems can be overcome by turning the obstruction lights on only when necessary, i.e. when there is an aircraft in the vicinity of the wind farm. Our Obstruction Light Control (OLC) vastly reduces light pollution caused by wind farms and improves the success rate of wind farm deployments.
Approvals
At Terma, we have an extensive track record with approval authorities providing documentation, standard safety cases, and support. Our know-how and domain leadership can be of great benefit in the approval process for planning and operational permits. Working with us is a long-term partnership from the approval process through to deployment or retrofit of the wind farm.

Our OLC solution is the most widely approved solution, and certified for deployment in the following countries;
United States, certified by the FAA (Federal Aviation Administration)
Germany, certified by DFS (Deutsche Flug Sicherung)
Denmark, certified by TBST (Danish Transport, Construction and Housing Authority)
Proven and reliable technology
We have been a world leader within radar detection technologies for more than 60 years. Our +3,000 Terma radar systems are protecting borders, harbors, airports, coast lines and wind farms worldwide.

More than 85% of all major airports around the world and 65% of all coastal shores rely on our radar technology.

Our OLC solution is based on our proven and reliable technology, ensuring continuous operation and low maintenance costs. Combined with our global service and maintenance capability, you obtain a proven high-performance system with very low risk.

Benefits with radar control of wind turbine lights
Our proven radar capabilities within radar surveillance provide a confident solution for small target detection in all weather conditions. This means that small aircraft, helicopters, gliders, ultralights, and other small non-cooperative targets will be warned by the obstruction lights.
Our proven radar capabilities within radar surveillance provide a confident solution for small target detection in all weather conditions. This means that small aircraft, helicopters, gliders, ultralights, and other small non-cooperative targets will be warned by the obstruction lights.

Our built in target classifier is on the forefront of adaptive machine learning, to discriminate small non-cooperative targets from larger flocks of birds. This means that larger flocks of birds will not activate the obstruction lights. Birds' not activating the obstruction lights on near- and off-shore windfarms is of great importance, not only to the neighbouring municipalities, and environmental bodies, but the birds too. Large flocks of birds are drawn to activated obstruction lights, greatly putting the life of the flock at risk.
Key benefits
Vendor-neutral. Our OLC solution integrates with existing infrastructure and lighting from leading Wind Turbine Generator vendors.
Scalability / Deployment flexibility. Terma radar capabilities and deployment offerings enable flexible solutions, for on-shore, near-shore, and off-shore wind farms, bringing down the total cost of ownership.
Our SCANTER 5202 is a commercial of the shelf product with more than 300 installations in service.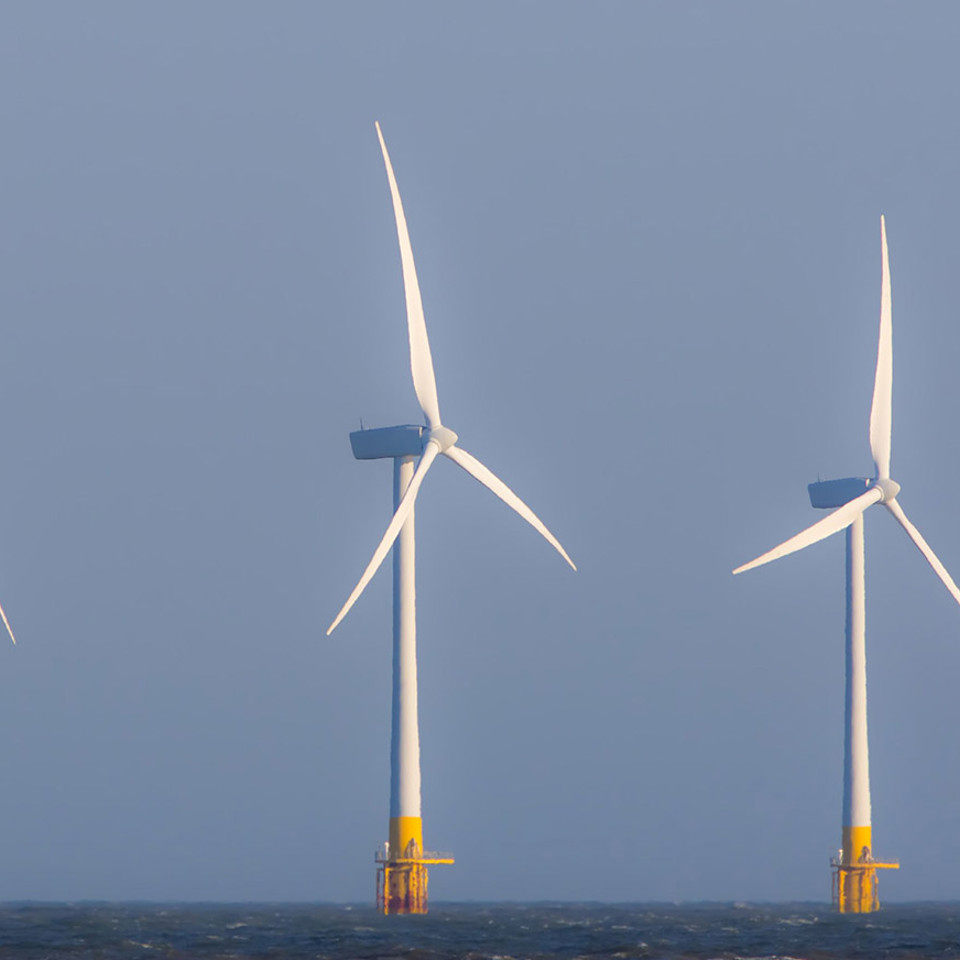 ©Ian Dyball
Benefit
Sustainable energy
We need to implement more sustainable energy for a future less dependent on fossil fuels, and wind energy is a great contribution to a sustainable energy grid. At Terma, we have solutions to support the implementation of more wind energy, and at the same time reduce the visual pollution caused by wind farm obstruction lights.
Benefit
Digital signal processing and Solid State technology
Our SCANTER radars have fully digital signal processing and Solid State technology, providing extremely clear radar images with low probability of false alarms. Our SCANTER radars detect non cooperative targets such as small aircraft, including ultralights and birds in any conceivable weather condition. Therefore, obstruction lights are turned on only when needed.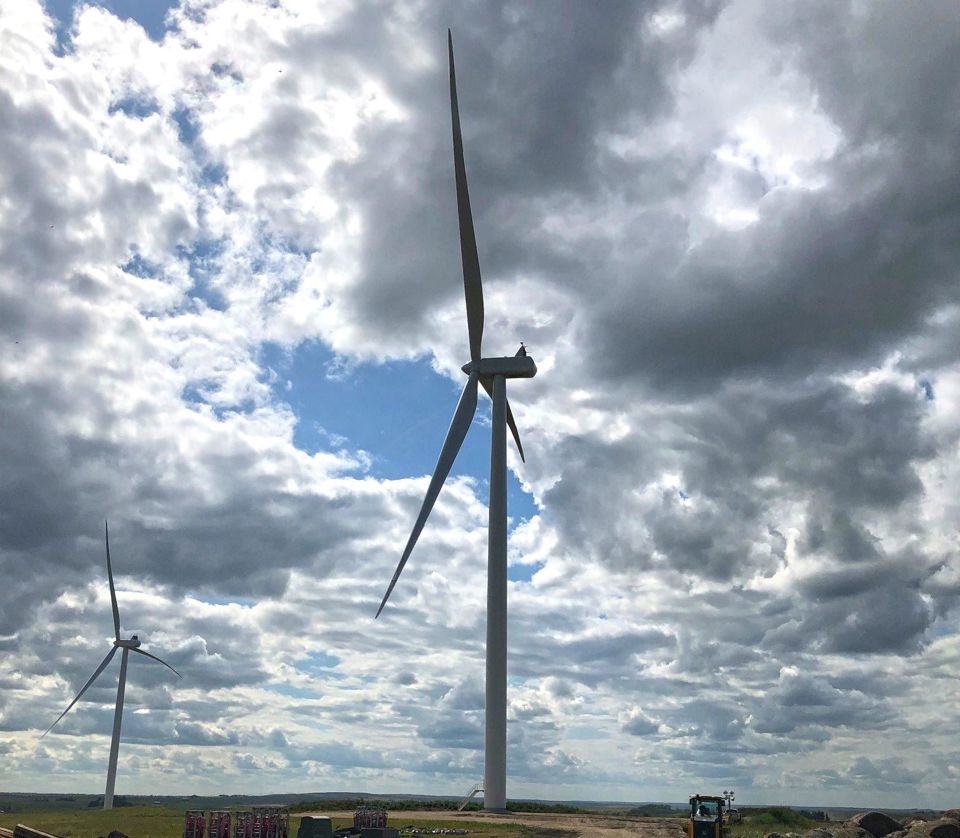 Benefit
Scalability
Our OLC solution provides 360 degree coverage (24/7) of up to 2,100 km2 of wind farm surveillance. SCANTER radars for our OLC solution have an instrumented range of up to 26 km detection radius, making our solution ideal for both small and large wind farms. For wind farms with a scattered layout, and to accommodate for future developments and expansions of the wind farm, additional SCANTER radars can be added.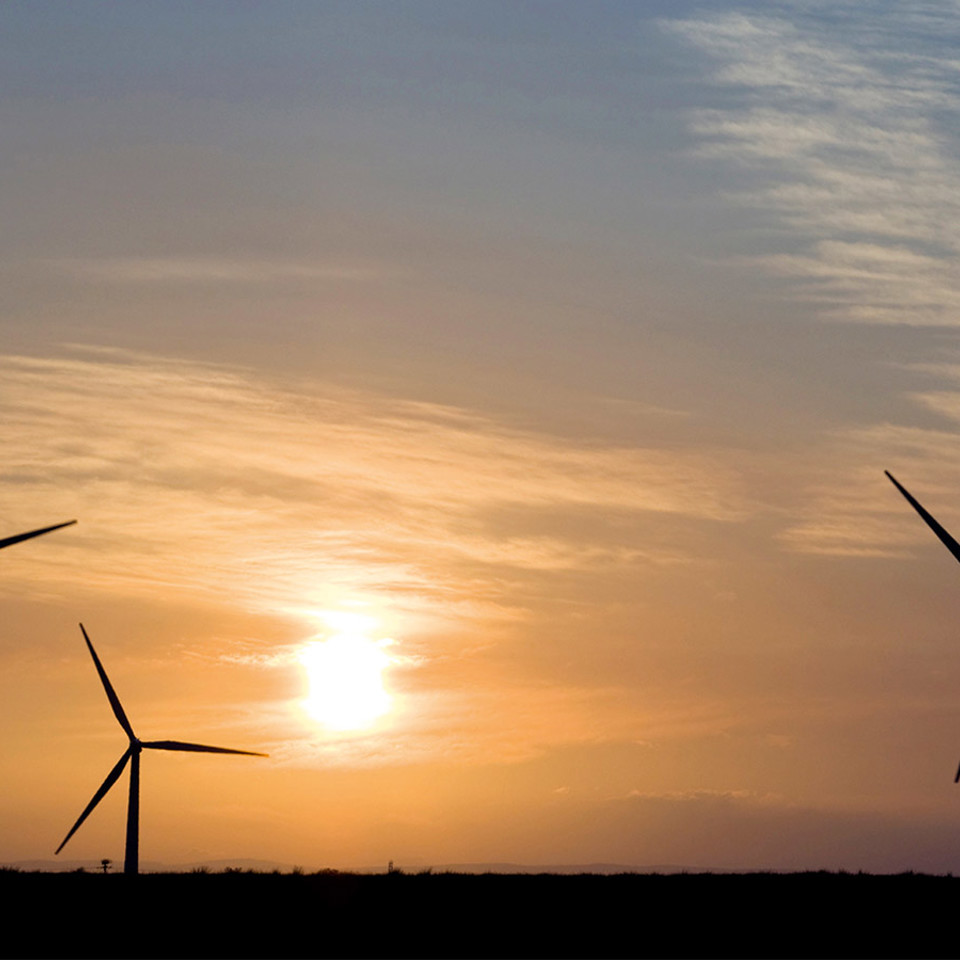 Benefit
Cost-effective
The scalability and flexible positioning of the SCANTER radar to mitigate multiple wind farms with a single radar is important to bring down the total cost and provide scalability to grow with future expansion of the wind farm.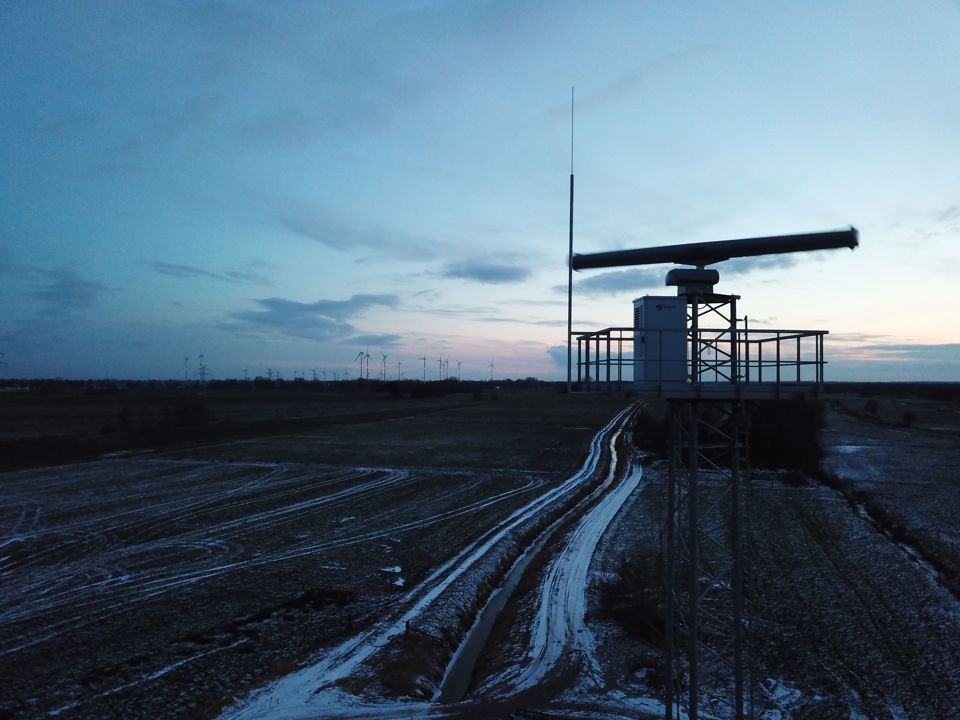 Benefit
Product sustainment
The SCANTER radar family has proven its performance, reliability, and sustainability in security applications all over the world. Based on our vast know-how and leading hardware and software technology, SCANTER radars provide our clients with a proven platform ensuring high availability (High Meantime Between failure).

Terma LifeCare
Life-long Service & Support
All wind farm products are eligible for our industry leading service agreement, Terma LifeCare. With Terma LifeCare you will minimize downtime, get hardware and software upgrades at reduced and known costs, get full transparency and knowledge of your system's lifetime cost and much more.
Check out our support & services
Need more details?
Then download our solution materials
Want to learn more?
If you have any questions about wind farm solutions, please get in touch with our expert.