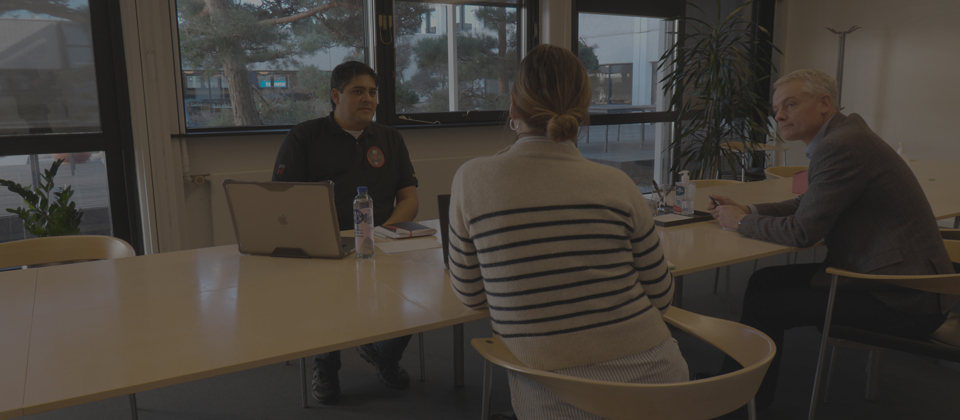 Our Culture
Our employees are the driving force of our success and our balanced workplace culture is vital for keeping employees fulfilled.
A team of passionate experts
We provide innovative, mission-critical solutions for the defense and aerospace industry. We are guided by one overall purpose: to deliver security for countries, alliances, and individuals.
Global
We Act Globally and Build Alliances
We depend on our ability to collaborate with partners. Therefore, we build international partnerships and act globally by adhering to strong strategic alliances. Security ultimately depends on cooperating across borders and different backgrounds.
Technology
We Define Technology with Passion
Our dedicated employees are passionate about their job and strive for excellence. Motivation comes from the opportunity to be creative and develop new solutions. We encourage our experts to push boundaries and make a difference, after all, not everyone gets to work on saving lives, maintain security and enable space exploration.
Expertise
We Create World-Class Expertise
We tackle and complete challenging tasks to bring out our world-class expertise. We are a leading global supplier of advanced and unique aerospace structures for commercial and military aircraft. Since 1969, we have consistently set new standards within the aerospace industry where precision, ingenuity and quality are paramount for the safety of human lives.
Integrity
We Work with Integrity and Deliver our Promise
At Terma, integrity means being a responsible corporate citizen and treating all our stakeholders with utmost integrity and respect. Our employees work with respect and trust for one another, most importantly, ensuring that fairness, honesty and consistency are the key points of our business transactions and embedded in our employee's professional lives.
"The company's culture is not something I think about, maybe because I feel so much at home."
Steen
Specialist
A Diverse work place
We value a friendly and supportive work environment that embraces diversity.

Becoming a diverse and inclusive workplace where everybody can thrive and flourish is our priority. Our philosophy is to treat our employees respectfully giving them the chance to combine work, leisure and family life in the most convenient way.

Our attitude towards employee's wellbeing is attentive and we take our employee's needs seriously. We care for our employees and react to any difficult life situations or personal crises they might encounter, allowing flexibility and accommodating a job on different terms if required.

We wish to ensure that our workforce reflects the society as a whole and we make an active effort to hire candidates from all groups of society.

Specifically, we have set goals for the number of people hired under extraordinary conditions such as reduced working hours, reduced workload, or subsidized employment to compensate for chronic illness.
Through our company policy, we established a set of activities to promote diversity overall:
Applying broader criteria when recruiting, focus on diverse profiles when filling positions
Be more visible among different talent groups through a variety of channels 
Engaging employees as ambassadors and key communicators of our diversity and inclusion efforts 
Maintain and encourage furthermore a welcoming culture
Include people, culture, and Terma as a place to work more in employer branding to appeal to a broader target audience.  
We have created a welcoming environment where everybody is treated well no matter your gender, age, race, religion, political views or sexual orientation and we strive to obtain a balanced gender distribution.

We utilize our differences as strengths and create an inclusive workplace where diversity of talents is highly valued.

CSR
Our responsibility
At Terma, we believe that we have a responsibility for our business operations and the impact we have.
Learn about our CSR initiatives
Ready to start your career at Terma?
Apply for one of our open positions that match you and your qualifications