2021-09-30
Celebrating Three Terma Apprentices
On Thursday, 30 September 2021, three Terma apprentices were awarded a medal from the Medal Foundation of Danish Industry and Craftsmanship in Eastern Jutland at an event at the Aarhus City Hall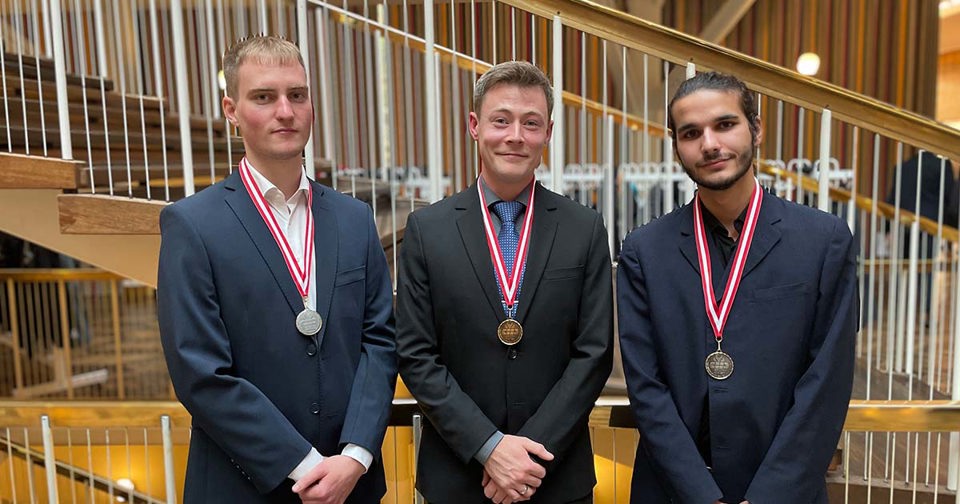 The Medal Foundation of Danish Industry and Craftsmanship in Eastern Jutland honors skilled apprentices every year, who have remarkably excelled professionally and demonstrated extraordinary social competencies at their workplace.

At Terma, we are proud of our long tradition of educating students and guiding them into the next phase of their training and work life. Our apprenticeship programs have resulted in many medals throughout the years – this year is no different. The medals are rewarded based on the students' final projects and input from colleagues and superiors. In total three medals were awarded to Terma apprentices by Aarhus Mayor Jacob Bundsgaard.

The newly qualified students from Terma each completed their training with flying colors receiving either grade 10 or 12 on their final exam. 
The three medalists
Jacob Mørk Brejnbjerg
Jacob finished his studies as a data technician specializing in programming on the 26 July 2020. Jacob received the highest grade, 12, for his apprenticeship project, and was awarded a silver medal for his efforts. Furthermore, Jacob received an ML-Award back in October 2020 for his work. Currently, Jacob is continuing his studies in software engineering. Jacob is 24 years old and lives in Lystrup.
William Farzin Filsoof
William finished his apprenticeship in IT support on 14 February 2020. He received the grade 12 for his impressive work on the apprenticeship test. He was awarded a silver medal for his work. William is an employee at Terma in Grenaa today, where he works as an IT Support Specialist. William is 22 years old and lives in Malling.
Mads Ejlert Grønhøj
Mads finished his studies as Industrial Machine Technician receiving the impressive grade 10 for his apprenticeship test. Mads was awarded a bronze medal for his remarkable work. Today, Mads is concurring the halls of Terma Aerostructures' department as a Technician of CNC Machining. Privately, Mads is 32 years old and lives in Grenaa. 
A big congratulations to all three medalists.

Who we are
Terma in Brief
The Denmark based high-tech Terma Group develops products and systems for defense and non-defense security applications; including command and control systems, radar systems, self-protection systems for aircraft, space technology, and aerostructures for the aircraft industry.
Learn more about us
Press contact
Questions?
Get in touch with our press and communications department
Get contact details