2021-06-08
Terma delivers the best result ever
2020/21 was a record year for Terma, which now announces its annual results.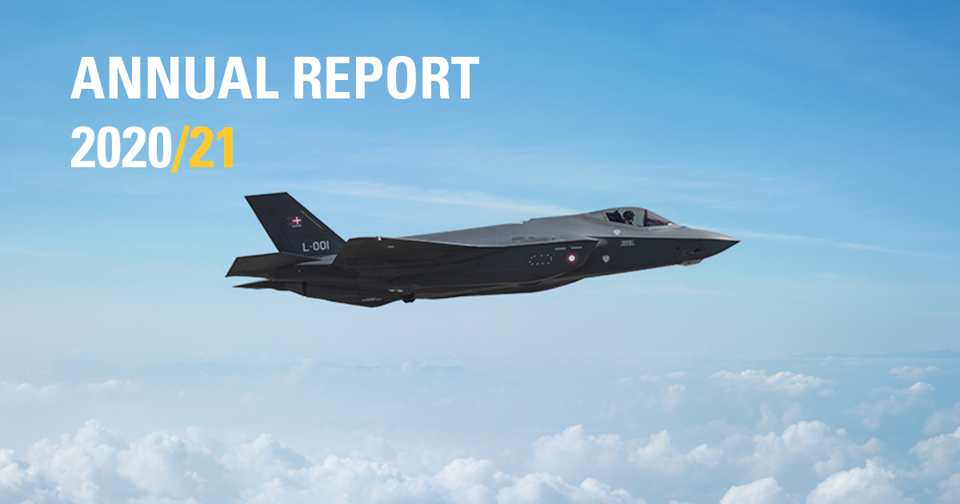 Lystrup, June 8 2021 - Terma delivered its best financial result ever in 2020/21. Revenue grew by 8% and exceeded DKK 2 billion for the first time ever. The result increased by 25% to MDKK 137.

"I am extra proud of the result because it has been achieved in a year with several challenges. This proves that we have a strong product portfolio," says CEO Jes Munk Hansen who took up the post in the spring of 2019.

F-35 production and sales of coastal radars are among the primary factors in generating Terma's growth during the past year. And with the new contracts added during the year, the outlook for 2021/22 is promising, with expected growth of 10%. In particular, the new 10-year framework contract with the U.S. Air Force and ADLS windfarms will be crucial growth factors in the years to come.
Result achieved during challenging times
But even though the overall result is a success, the narrative differs across Terma's Business Areas. The service area as well as command & control systems for naval vessels were significantly affected by COVID-19 as expected contracts were lost or postponed. In contrast, the F-35 and radar areas performed very well.

In addition to the strong product portfolio, Terma has delivered a record result despite the challenges due to acceleration of strategies that were launched long before Corona.

"We aimed at increased digitalization, internationalization, and commercialization, and we succeeded," says Jens Munk Hansen.

In 2020, Terma has expanded in the U.S., established an office in Indonesia, launched a new website, and set new standards for delivery of products to customers online. 
Facts:
Terma is Denmark's leading supplier of defense equipment, and the company supplies components for defense, security, and space applications
Terma benefits from Denmark's involvement in the F-35 program, the world's largest industrial project. 700 of Terma's 1,783 employees work within the F-35 program.
Download the annual report here and find our other reports including previous reports here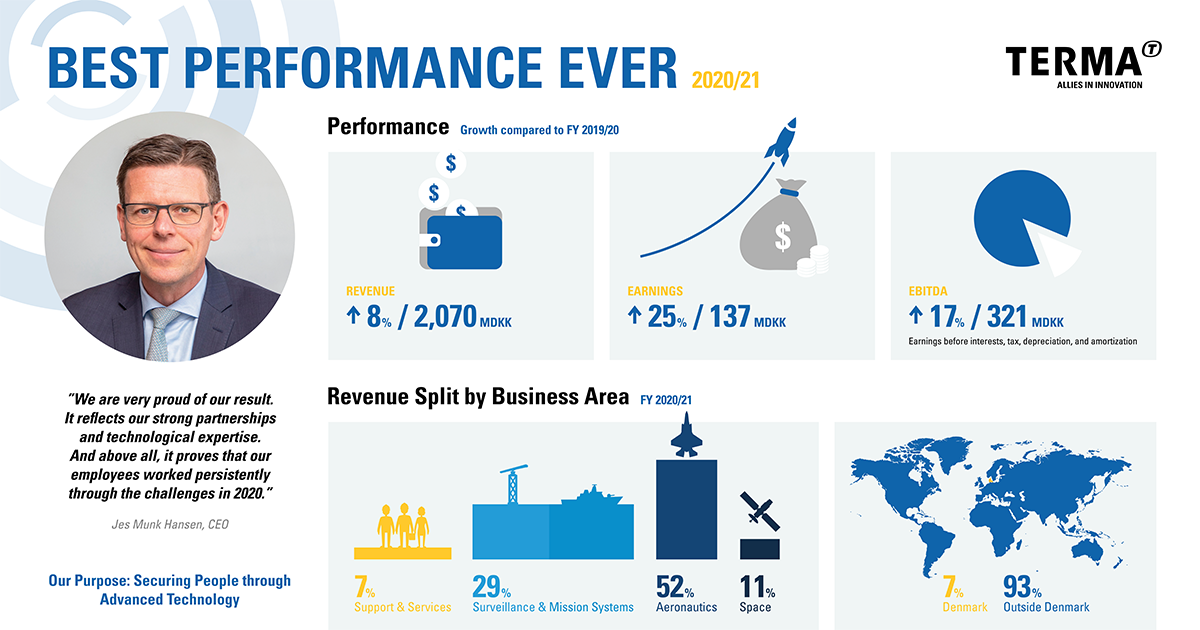 Who we are
Terma in Brief
The Denmark based high-tech Terma Group develops products and systems for defense and non-defense security applications; including command and control systems, radar systems, self-protection systems for aircraft, space technology, and aerostructures for the aircraft industry.
Learn more about us
Press contact
Questions?
Get in touch with our press and communications department
Get contact details