2023-11-01
Terma to Supply Radars for New Royal Navy Frigates
Danish manufacturer of advanced technology solutions for defense, Terma, is set to supply ten SCANTER 6000 radars to equip five Royal Navy Type 26 frigates.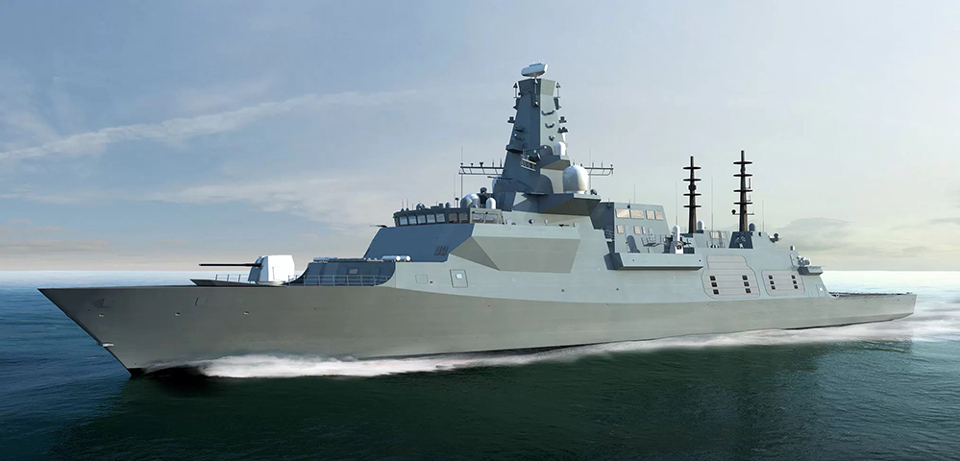 Terma, a Danish leader in advanced technology solutions for defense, is thrilled to announce its significant contribution to the second batch of Type 26 frigates for the British Royal Navy. Terma will be providing ten SCANTER 6000 radars to equip five state-of-the-art Royal Navy Type 26 frigates, bolstering their capabilities for the future. The agreement on the delivery of the radars has been contracted with German marine navigation manufacturer Anschütz, who is providing the complete Integrated Bridge System (IBS).
The Royal Navy's Type 26 frigates are at the forefront of naval innovation, with the first batch of the frigates consisting of three ships already in build, along with the first ship of Batch 2, HMS Birmingham. The second batch of the Type 26 frigates consists of five ships - HMS Birmingham, HMS Sheffield, HMS Newcastle, HMS Edinburgh, and HMS London - and will be equipped with Terma SCANTER 6000 radars. Construction of all eight frigates is expected to be completed by the mid-2030s.
The SCANTER 6000 radar systems, to be supplied by Terma, are renowned for their exceptional performance in naval applications. These radars offer simultaneous detection capabilities for small targets, helicopter guidance, and large and small target detection at various ranges, including close and maximum distances.
The Royal Navy's Type 26 frigates are designed to be versatile, advanced anti-submarine warfare warships and will serve as the replacement for eight of the retiring Type 23 fleet. Terma's contribution solidifies Terma's reputation as a key player in delivering cutting-edge defense technology and underscores the company's commitment to enhancing naval operational effectiveness.
Terma's track record in delivering advanced technology solutions for navies around the world, including the Danish, American, French, German, and Norwegian navies, underscores the trust placed in the SCANTER 6000 radar system. Its exceptional performance even in adverse weather conditions further enhances the operational capabilities and situational awareness of the Royal Navy's Type 26 frigates.
As Terma continues to lead in delivering innovative technology solutions for defense and security forces worldwide, this collaboration not only signifies Terma's dedication to providing state-of-the-art solutions but also highlights its commitment to fostering international cooperation within the defense industry. Terma is proud to be part of this venture, which promises to significantly bolster the Royal Navy's capabilities and strengthen defense partnerships.
More about our Naval Surveillance Solutions.

Who we are
Terma in Brief
The Denmark based high-tech Terma Group develops products and systems for defense and non-defense security applications; including command and control systems, radar systems, self-protection systems for aircraft, space technology, and aerostructures for the aircraft industry.
Learn more about us
Press contact
Questions?
Get in touch with our press and communications department
Get contact details