2022-07-20
Introducing the Terma F-35 Multi-Mission Pod
Terma has delivered more than a 100 Gun Pods for the F-35 Lightning ll, the only certified external pod for the F-35 fighter jet. Terma is now introducing the F-35 Multi-Mission Pod – a further development to the Gun Pod, providing additional mission payload volume for the platform.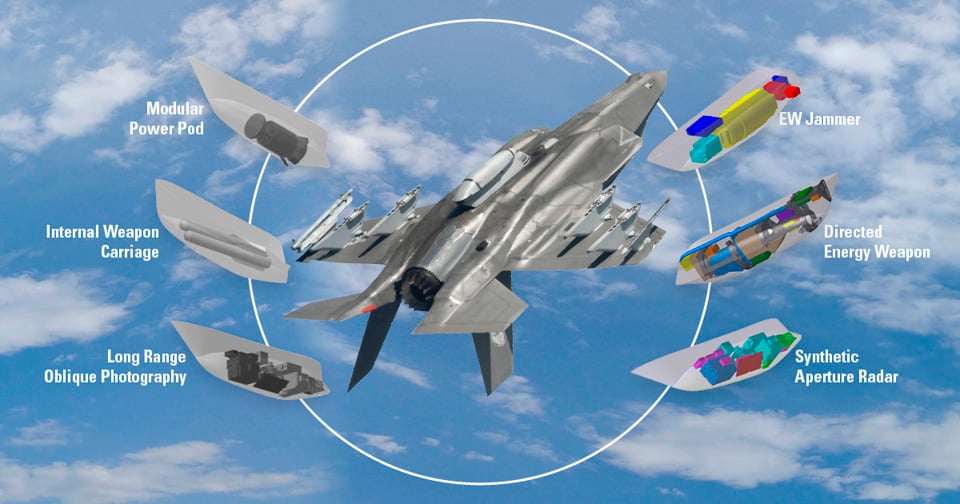 The F-35 is truly a fighter jet built for the future. Designed to become better, more intelligent, and more powerful with every fight, every update, and every technological development. However, introducing new hardware capabilities to the F-35 is an expensive matter as adding new sensors or weaponry to the fuselage requires extensive engineering work and aircraft down time.

Terma's Multi-Mission Pod is based on our F-35 Gun Pod, the only certified design for an external F-35 pod. The Multi-Mission Pod retains the same outer mold line of the Gun Pod which minimizes flight certification requirements for payloads. This allows rapid and low-cost integration of additional capability on the aircraft since aerodynamic and signature performance is unaffected.

The Terma F-35 Multi-Mission Pod provides additional mission payload volume for the platform. This gives the warfighter increased capability and flexibility to augment the aircraft based on mission requirements. The Multi-Mission Pod can be tailored to provide capabilities including EW/Self-Protection, Concealed Stores Carriage, ISR Payloads, Power Generation, Directed Energy Capability, additional Jammers, or any other hardware capability, you might need.

The Multi-Mission Pod provides the additional physical space on the F-35 – without compromising the aircraft radar signature.

The development of the Terma Multi-Mission Pod is leveraging from Terma's F-35 Gun Pod experience. Terma has delivered over a 100 Gun Pods for the F-35 program, with over 100,000 engineering hours, and is the only manufacturer of a certified external pod on the F-35 Lightning ll.

At Farnborough International Airshow 2022, Terma will display a full-size model of our Multi-Mission Pod for the F-35 Lightning ll.

Meet us in Hall 2, booth 2320, at Farnborough International Airshow at The Show Center, ETPS Road, Farnborough GU14 6FD, on July 18-22. At our stand you can meet Terma executives and leaders and specialists from our Aeronautics and Space division.

Who we are
Terma in Brief
The Denmark based high-tech Terma Group develops products and systems for defense and non-defense security applications; including command and control systems, radar systems, self-protection systems for aircraft, space technology, and aerostructures for the aircraft industry.
Learn more about us
Press contact
Questions?
Get in touch with our press and communications department
Get contact details