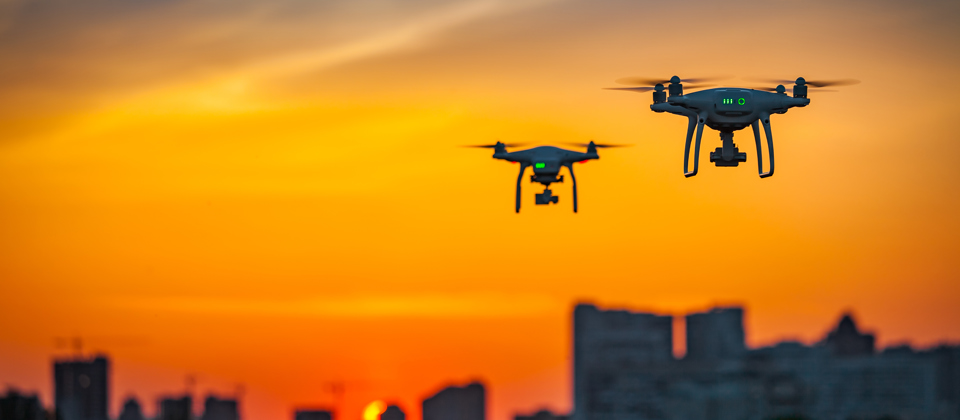 Counter drone protection
Aid your security personnel to detect and fight the growing threats from drones in your airspace.
Are you concerned about the consequences from drones causing invasion of privacy, espionage, breach of safety or terror?

Then our T.react Counter Drone system specifically designed for infrastructure protection will provide you with peace of mind.
T.react CIP Counter Drone will ensure you have the capability to simultaneously:
Detect
Track
Identify
Defeat unwanted drones (if required)
We are proud to present our state of the art T.react CIP Counter Drone solution which will aid your security personnel to detect and fight the growing threats from drones in your airspace.

The T. react CIP Counter Drone solution is based on our renowned wide area perimeter solution which utilizes intelligent detection sensors, cameras, data fusion and AI technology. This ensures a coherent and not least easy to understand situational awareness picture assisting the operator in countering the threat.

At Terma, we have been developing state-of-the-art technologies for military forces in Europe, North America, Asia, and allies in the Middle East for decades.

Building upon the technologies and experiences from our military equipment, T.react CIP will provide you with a thorough all-terrain wide area protection that is predicated upon the necessity of situational awareness for mission success.
Detect:
Our T.react CIP Counter Drone solution is built to detect any type of drone threats immediately and reliable. This is, amongst others, done by utilizing a specially designed radar from our world-renowned SCANTER product line, offering true 360 degrees surveillance capability to ensure the drone is detected. Equally, the detection may be complemented by using other radar types and detection technologies.

The T.react CIP system will ensure that the input from the sensors are analysed, and presented to the operator on the screens in a simplistic and easy to understand way.
Track:
Our T.react CIP Counter Drone solution, will automatically track the drone and present its three dimensional position and track history on the operator display. The solution can handle any number of drones simultaneously and depending on the severity level determined by the operator, the system will automatically assign one or more cameras to an event allowing the operator to get a visual confirmation of the intrusion.
Identify:
T.react CIP uses machine learning, artificial intelligence and complex pattern recognition to sort the data collected by the radar, thermal sensors, and cameras.

Consequently, T.react CIP will intelligently sort regular activities at your facility from abnormal ones, which will make you see through the clutter and focus only on illegal activities, suspicious behavior, unauthorized perimeter breaches, and airborne security threats like drones.

In other words, with T.react CIP, you set monitoring to autopilot while being confident that the alarm will sound only when it needs to, and, when it does, you will already have the best intelligence at hand to take decisive action.
Defeat:
T.react CIP counter drone can interface to different types of counter measures ranges which assist the operator to counter the threat. Soft kill to hard kill and GPS jamming.

For more than 30 years, Terma has developed surveillance and controls systems for allied forces around the world. Since 2010, the security sector has benefited from our technology by providing facilities unprecedented operational picture and unmatched insights to address to potential threats and unwanted activities.
Key benefits 1002D
Compact drone detection radar with superior detection capability
True 360 degrees surveillance with a high update rate
Built-in tracking
A military specified radar at COTS prices.
Built from knowledge gained in SCANTER family of products.
Easy set-up and maintenance
Contact us
If you have any questions about our counter drone solution, please send us a message.

Want to learn more?
If you have any questions about counter drone protection, please get in touch with our expert.