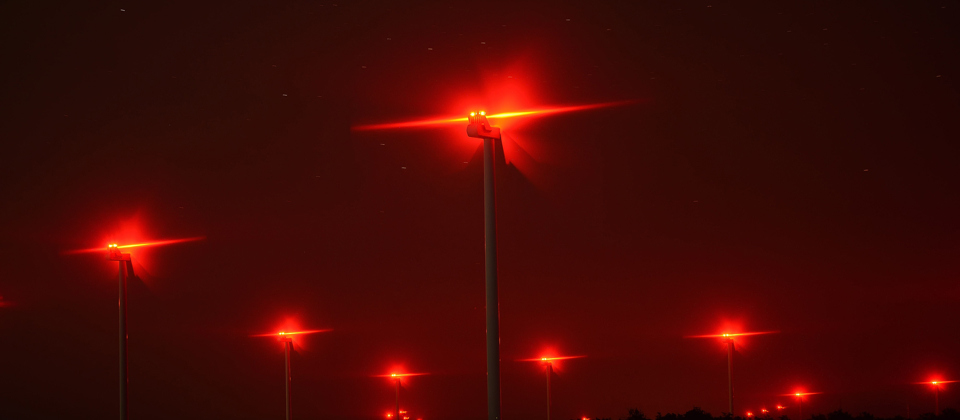 Aircraft Detection Lighting System
With an Aircraft Detection Lighting System (ADLS) the dark night sky is preserved.
Avoid Aviation Lighting Disturbances
Our aviation lighting solution minimizes light pollution to communities and wildlife surrounding wind farms.
The air dome above and around the wind farms is contentiously being monitored
Safety for low-flying aircraft is maintained
A flexible solution for on-shore, near-shore, and off-shore wind farms
Radar Control of Wind Turbine aviation Lights
Today, wind turbines are taller than ever. As turbines get taller, they are increasingly likely to cause difficulties for low flying aircraft, when turning the aviation lights off during night time. However, wind turbine aviation lighting can cause annoyance to the surrounding communities and wildlife. An aircraft detection lighting solution is necessary to maintain air safety for aircraft, while also keeping the lights turned off when they are not in use. 

The Aircraft Detection Lighting System (ADLS) or also known as Obstruction Lighting System (OLC) consists of a radar, an antenna, and a light control server. The intelligent lighting solution monitors the space above and around the wind farm.

The radar control system detects even the smallest targets, including small aircraft, helicopters, gliders, ultralights, and flocks of birds.

With a built-in target classifier, machine learning capabilities distinguishing small, non-cooperative targets from larger flocks of birds. This intelligent system ensures that the lights are not turned on unnecessarily.
Improve 'light off' time by up to 95%
The aviation lights emits white light or red light at night. When the air dome above the wind turbines is clear, the lights stay turned off. However, when an aircraft enters the wind farm area, the system automatically detects it and turn the required high-intensity lights on.

The lights turn off again when the aircraft leaves the wind farm. Our Aircraft Detection Lighting has been proven to improve wind farm 'light off' time by up to 95%.

The Aircraft Detection Lighting should be Installed with an unobstructed view of the environment to work as efficiently as possible.
"Implementing an ADLS solution from Terma will significantly reduce the nuisance caused by the turbine aviation lighting. "
Henrik Bendix Nielsen
Sales Manager

Benefits
The combination of our proven radar capabilities, antenna solutions and light control server creates the ultimate aviation lighting solution for your wind farm.
Radar Control of Lights
The latest generation of wind turbines are taller than ever before. As wind turbines grow, the intensity of aviation lighting increases correspondingly. The radar light control makes sure these lights are only turned on when an aircraft enters the area, and that they are turned off when it leaves again.
Built-in Target Classifier
Our proven radar surveillance capabilities provide a solution for targeting and classifying different aircrafts and other air targets entering the airspace surrounding your wind farm. The machine learning tool identifies relevant and irrelevant targets, like lightweight planes or drones versus birds, ensuring that the lights are only turned on when necessary.
Scalability and Deployment Flexibility
An ADLS is a flexible solution, that can be placed on-shore, near-shore, or off-shore. With this flexibility, we keep the total cost of ownership to a minimum. Furthermore, the ADLS solution can evolve along with your changing needs.
Easy to Integrate
An ADLS is vendor-neutral and easy to integrate with existing infrastructure and lighting from leading wind turbine generator vendors. Our SCANTER 5202 is a commercial, off-the-shelf product that has been installed in more than 300 locations around the globe, which makes it easy to adjust to your current systems.
Contact us
If you have any questions about our ADLS solution, please send us a message.
Need more details?
Then download our solution materials
Want to learn more?
If you have any questions about wind farm solutions, please get in touch with our expert.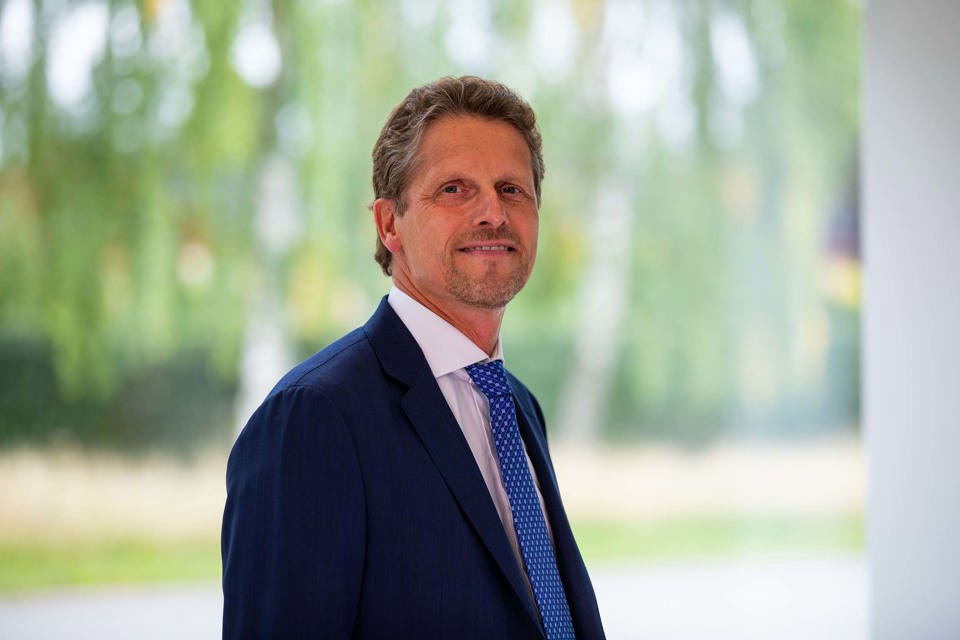 Terma LifeCare
Life-long Service & Support
All wind farm products are eligible for our industry leading service agreement, Terma LifeCare. With Terma LifeCare you will minimize downtime, get hardware and software upgrades at reduced and known costs, get full transparency and knowledge of your system's lifetime cost and much more.
Check out our support & services
Related capabilities
Antennas
Find out which radar antennas you need to fully cover your area. Through an in-depth coverage analysis, the ideal radar antenna setup will be customized to meet your needs.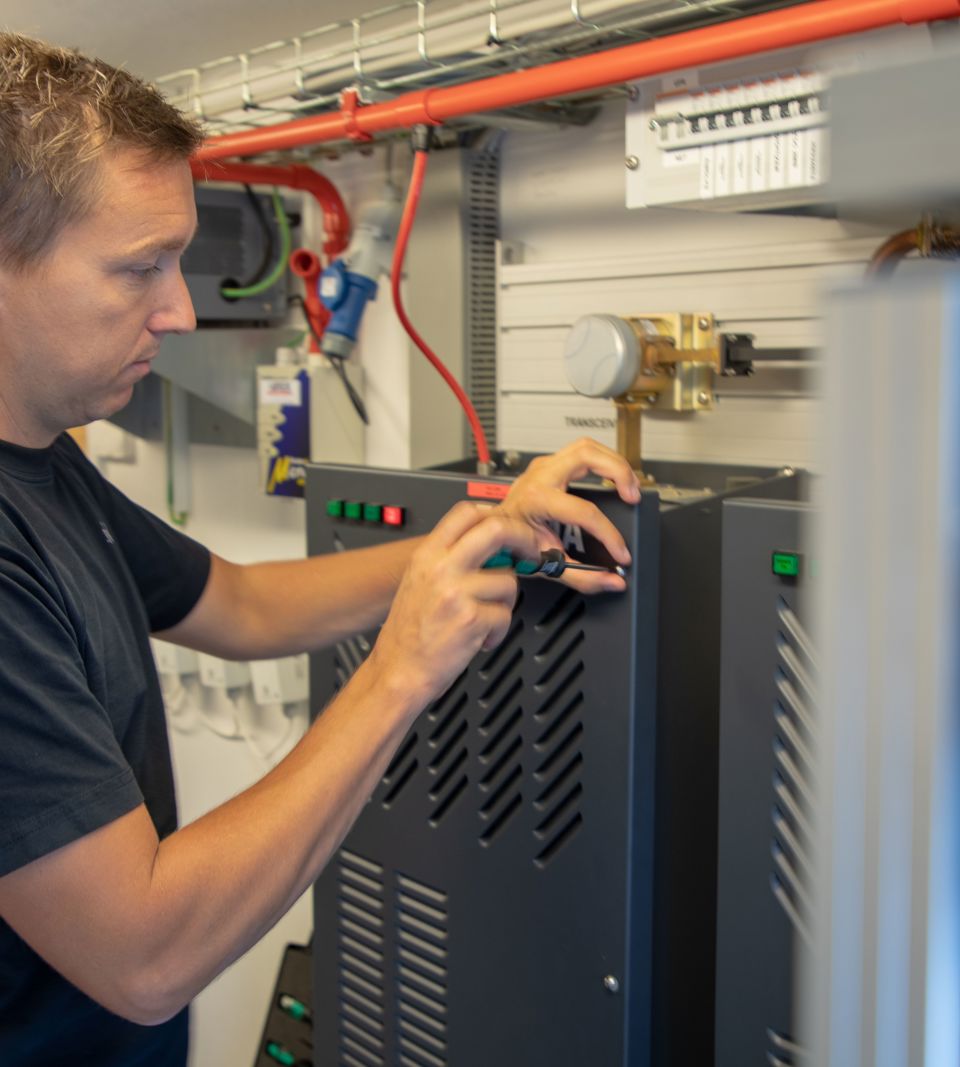 Transceivers
Radar transceiver solutions from Terma are modular, versatile, and scalable. They are specifically designed for seamless integration with third-party systems.