2016-07-13
Terma and Lockheed Martin confirm F-35 Collaboration
Terma and Lockheed Martin confirmed opportunities for Terma to pursue additional component production for the F-35 Joint Strike Fighter.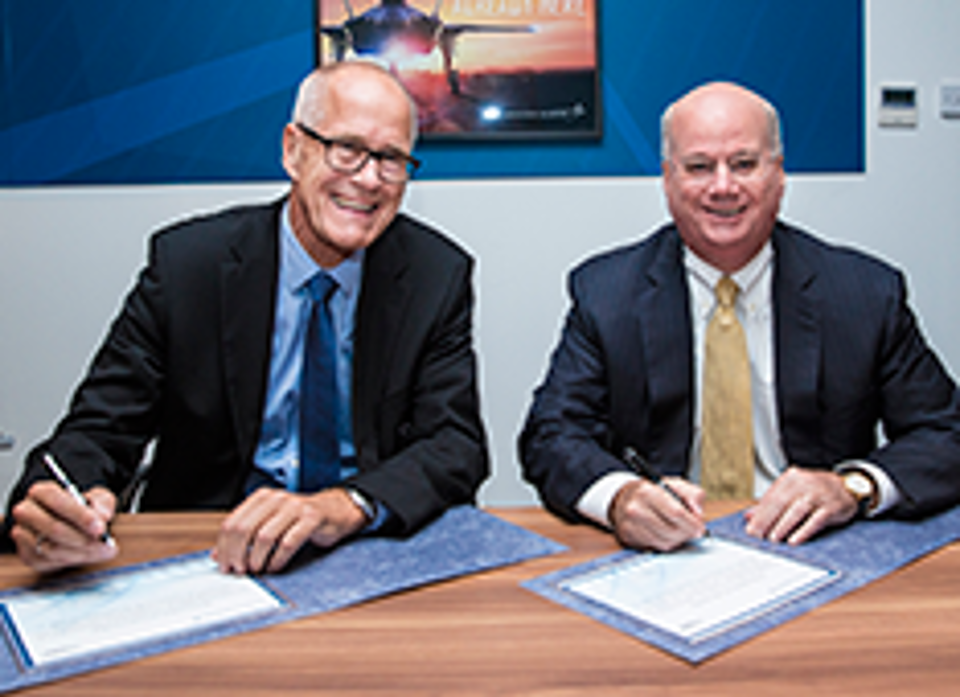 Farnborough, UK – Denmark-based Terma and Lockheed Martin confirmed opportunities for Terma to pursue additional component production beyond their current contracted agreements for the F-35 Lightning II Joint Strike Fighter, following Denmark's recent decision to acquire 27 F-35As for their next fighter aircraft.
Terma President and Chief Executive Officer Jens Maaløe and Lockheed Martin Aeronautics Executive Vice President Orlando Carvalho were on hand for the ceremonial confirmation of an agreement that allows for continuation of existing opportunities for Terma to provide best-value composite and bonded assembly work for the F-35 beyond Low Rate Initial Production and through full-rate production.
"Our handshake today is a strong evidence of years of close partnership and collaboration on various platforms and programs, not least Denmark's actual and future fighter aircraft, the F-16 and the F-35. At present, we have initiated a comprehensive investment program at our Danish facilities to secure and increase our solid and reliable technology base for future involvement in the program," said Maaløe.
In 2013, Terma entered into a long-term agreement with Lockheed Martin for the manufacture of composite and bonded assembly parts for all variants of the F-35. The Danish company has also signed additional agreements for F-35 work with Northrop Grumman Corporation, BAE Systems, General Dynamics, and Marvin Engineering. Terma has been collaborating with Lockheed Martin since 1976 with the F-16 program and since 2000 as a partner on the F-35 program.
"Denmark is an essential partner in F-35 production, development, and sustainment activities and is building parts and components for the manufacture of more than 3,000 projected aircraft," said Carvalho.
"Today, more than 180 F-35s are flying, and every jet will have Danish components and will ensure Denmark's national security for decades to come."
Terma's involvement in the F-35, since Denmark entered the program in 2002, comprises eight different production programs within advanced composite structural parts and electronics. To date, Danish industry has received orders in excess of USD 325 million.

Who we are
Terma in Brief
The Denmark based high-tech Terma Group develops products and systems for defense and non-defense security applications; including command and control systems, radar systems, self-protection systems for aircraft, space technology, and aerostructures for the aircraft industry.
Learn more about us
Press contact
Questions?
Get in touch with our press and communications department
Get contact details