2021-05-27
Terma Radar Selected for Indonesian Navy Hospital Assistance Ships
Terma was recently awarded a contract to supply a SCANTER 6002 radar for the latest Indonesian Navy's Hospital Assistance Ship (BRS). The radar delivery is planned for June 2021. The award follows a previous contract signed in 2019 to supply a similar radar for the BRS "Wahidin Soedirohusodo", delivered in January 2021.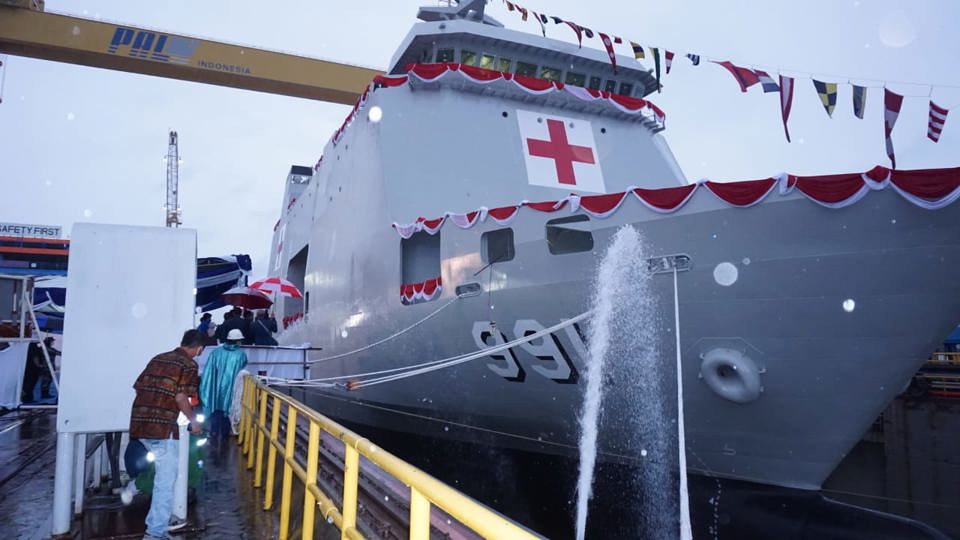 Jakarta, May 27 2021 - Hospital ships are vessels designed to act as floating medical treatment facilities for humanitarian missions or for use in war zones. Under the new contract, Terma will deliver the radar in June 2021 to support the latest Indonesian Navy Hospital Assistance Ship (BRS). 

The Indonesian Navy's BRS built in Surabaya by the Indonesian state-owned shipyard PT PAL is 124 meters long, 21.8 meters wide, and able to host more than 600 people including crew, troops, and patients. According to PT PAL, the BRS can accommodate medical personnel to carry-out operational missions equivalent to those of a regular hospital. The BRS will be fitted with polyclinic facilities, emergency rooms, a radiology unit, and more.

Indonesia being prone to natural disasters such as earthquakes, volcanic eruptions, and tsunamis, assets such as the Hospital Ships are paramount to promptly ensure rescue and evacuation missions when needed. For this specific capability, each Hospital Ship is equipped with two helicopter landing spots, ensuring that the personnel, as well as the patients, can be readily and safely moved to and from the vessel.

The SCANTER 6002 is a surveillance radar with unparalleled helicopter landing control capabilities, which perfectly suits the missions carried out by the Hospital Ships.

Throughout the years, Terma has supplied numerous mission critical solutions in Indonesia, for all theatres of operations (air, land and sea). The main customers include the Indonesian Navy and Air Force, the Indonesian Coast Guards (Bakamla) and Sea and Coast Guard (KPLP), the Directorate General of Sea Transportation (DGST), and Jakarta Soekarno–Hatta International Airport.

In January 2019, Terma was awarded a major contract for the supply of complete C-Series Combat suites for four KCR-60 Fast Attack Craft also including SCANTER surveillance radars.

"Indonesia is a very important market for the development of Terma in the region and beyond" said Anupam Narain Mathur, VP & GM Terma Asia Pacific. "Through strong partnerships and close collaboration, Terma aims at supporting Indonesia to improve its capability in developing and maintaining mission critical systems, ensuring self-reliance and in the end human safety".

In Asia Pacific alone, more than 500 SCANTER radars are in operation on land and at sea to support missions such as coastal surveillance, vessel traffic management, and airport surface movement and naval surveillance. Globally, Terma has delivered more than 3,000 SCANTER radars.

Who we are
Terma in Brief
The Denmark based high-tech Terma Group develops products and systems for defense and non-defense security applications; including command and control systems, radar systems, self-protection systems for aircraft, space technology, and aerostructures for the aircraft industry.
Learn more about us
Press contact
Questions?
Get in touch with our press and communications department
Get contact details