2023-03-08
Terma launches Connect - a new digital vision for the future
Terma has launched a new digital universe enabling customers to supervise their surveillance and mission systems. The solution, a desktop monitoring and dashboard tool for customers, will enhance the user experience of owning and operating Terma products. The new solution is called Terma Connect.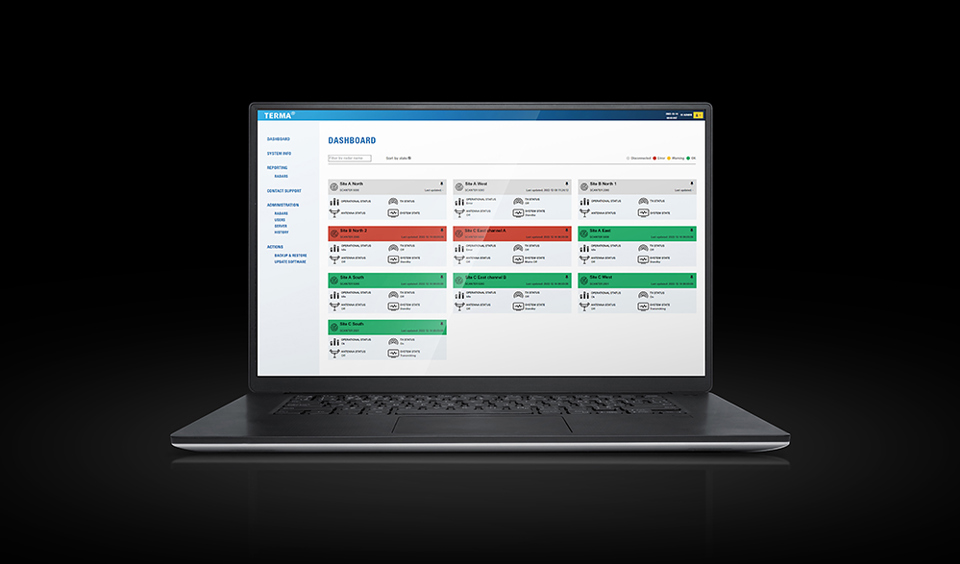 Terma has launched a new desktop monitoring and dashboard tool, which will improve the Terma product user experience of surveillance and mission systems. The solution serves as a monitoring software for radar systems and will provide a status overview of all sites without the risk of interfering with the operation of the sites. The solution, known as Terma Connect, will significantly ease the use of Terma products, by offering a higher degree of preventive maintenance, more effective planning of maintenance jobs and a faster decision making.
The solution is targeted personnel in operation and control rooms within the VTS (ports), CS (coastal) and SMR (airport) sectors and is a highly secured internal solution, which will work inside the customer network, meaning that neither Terma or any other party can access network or data without user permission.
Terma Connect will be available as a subscription model subject to an annual fee covering all radars in the period of contract. Terma Connect will be included in Terma Lifecare warranty, which means that any new Terma product owner will have the option of using Terma Connect during the product warranty period at no additional cost.
"Terma is proud of the release of Terma Connect. We see the solution as a proof of our excellence within the area and believe it stands as a clear example of our vision for the future." says Jesper Fammé, Senior Sales Manager.
Terma Connect will be launched at Airspace World 2023 in Geneva on March 8-10, 2023, at booth J20.
More about Terma Connect.

Who we are
Terma in Brief
The Denmark based high-tech Terma Group develops products and systems for defense and non-defense security applications; including command and control systems, radar systems, self-protection systems for aircraft, space technology, and aerostructures for the aircraft industry.
Learn more about us
Press contact
Questions?
Get in touch with our press and communications department
Get contact details